What is Hypercholesterolaemia
Hypercholesterolaemia is defined as elevated amounts of cholesterol in the blood. Cholesterol is a waxy, fat-like substance that is naturally found in the walls of cells. It is used by the body to produce certain hormones, vitamin D, and bile acids that help to digest fat. If the amounts of cholesterol in the blood are excessive, cholesterol can build up in arteries, which can lead to coronary heart disease and many other serious conditions.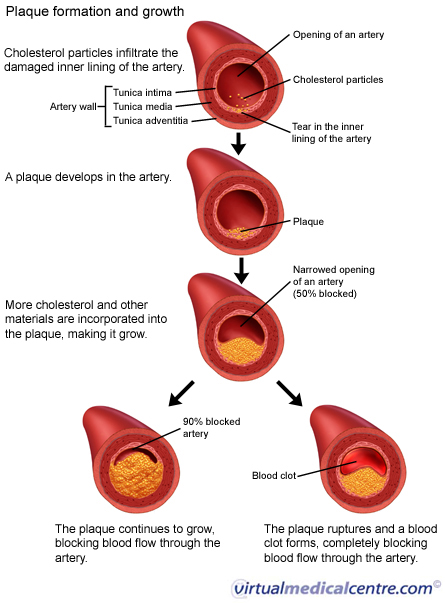 Information on re-publishing of our images
Statistics on Hypercholesterolaemia
Nonfamilial (non-inherited) hypercholesterolaemia is the most common form of hypercholesterolaemia. It occurs in occurs in people with a susceptible genotype which is aggravated by excessive intake of saturated fats and cholesterol.
Familial hypercholesterolemia is an inherited genetic disorder. The children of people with familial hypercholesterolemia may inherit either the normal gene or the defective gene, so the prevalence within that family will be approximately 50%. It is the most common potentially fatal genetic disorder and affects somewhere between 1/200 to 1/500 Australians.

Risk Factors for Hypercholesterolaemia
Predisposing factors for high cholesterol levels (hypercholesterolaemia) include:
Family history
Diets high in saturated fats and cholesterol
Liver disease
Poorly controlled diabetes
Overactive pituitary gland
Low levels of physical activity
Insulin resistance
While some factors cannot be altered by changes in lifestyle, many can be changed. The most important risk factors related to high cholesterol are:
Obesity
Diets high in saturated fat and trans fatty acids
Low fibre in the diet
Physical inactivity
Stress
Smoking cigarettes
Living in an industrialised country
Underactive thyroid
Diabetes
Polycystic ovary syndrome
In most cases, elevated cholesterol levels are associated with an overly fatty diet coupled with an inactive lifestyle.

Progression of Hypercholesterolaemia
A number of complications may occur if high cholesterol is left untreated. These include:
Heart disease: One of the leading cause of death in Australia. Elevated cholesterol levels more than doubles the risk of heart attack.
Insulin resistance: Many people diagnosed as being insulin resistant then go on to develop diabetes.
Symptoms of Hypercholesterolaemia
Hypercholesterolaemia is often an asymptomatic condition (meaning it displays no symptoms) and is usually discovered during routine screening. In some cases it can be a genetic disorder, so your doctor will ask you several questions about the health of other members of your family. A history of stroke, heart attack or sudden death in your immediate family will point towards a genetic condition, namely familial hypercholesterolaemia. Your doctor may draw a family tree so other at-risk members can be identified and followed up, although some family members can be reluctant to be involved due to confidentiality issues.

Clinical Examination of Hypercholesterolaemia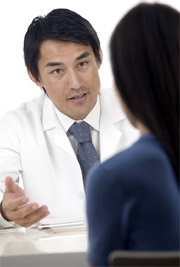 In its advanced state, high cholesterol may result in any of the following:
Enlarged liver and spleen
Severe abdominal pain as a result of pancreatitis
Chest pain, and even a heart attack, which may occur as a result of a blockage of major blood vessels by cholesterol build up.
How is Hypercholesterolaemia Diagnosed?
As symptoms of high cholesterol won't become evident until it is possibly too late, blood screening is essential for early diagnosis. An initial blood test is done to check a "random" measurement of total and HDL cholesterols, meaning that the test is performed at any time during the day, regardless of what has been eaten.
Those with abnormal levels will go on to have a fasting lipid profile test (in which the person being tested refrains from eating for 8-12 hours, usually overnight, prior to the test). The fasting test will indicate whether or not total cholesterol levels fall within the normal range, are moderately high, or if they are in the very high range.

Prognosis of Hypercholesterolaemia
The risk of complications of hypercholesterolaemia can be significantly reduced by therapies that lower serum cholesterol levels.
Lowering cholesterol by 1% reduces the risk of coronary artery disease by 2%.
The treatment of other modifiable risk factors such as smoking, high blood pressure and diabetes will further decreases the risk of complications of hypercholesterolaemia.
Maintaining an appropriate weight, eating a low fat diet and exercising can also have a significant impact on cholesterol levels and improve long-term outcomes.

How is Hypercholesterolaemia Treated?
The primary concern in hypercholesterolaemia treatment is to reduce the risk of cardiovascular diseases, such as heart disease and stroke, by lowering blood cholesterol levels. If you are thought to have a genetic form of this disorder, treatment may be started at a very young age. In addition, genetic counselling and family screening may be considered in your treatment plan. People who benefit most from lowering their cholesterol are those who already have heart disease or who have multiple risk factors for the disease.
In addition to lifestyle changes, specific cholesterol-lowering medications are often prescribed.
This information will be collected for educational purposes, however it will remain anonymous.

Lifestyle changes
Changes in lifestyle are considered the most effective means of both preventing and, in less severe cases, treating elevated LDL cholesterol levels. The cornerstone of this treatment strategy is  dietary modification and exercise.
In addition to little fat and cholesterol, lean protein (such as soy and fish), and lots of fruits and vegetables, diets should include:
Soluble fibres, such as psyllium, which have a cholesterol lowering effect.
Soy, which reduces total cholesterol.
Antioxidants, which, when consumed in high amounts, have been associated with lowered risk of cardiovascular disease (vitamin E appears to be of particular value).
Omega-3 fatty acids, which may lower the chance of recurrent heart attacks and death from heart disease.
Folic acid supplements, which may improve the function of the blood vessels in those with high cholesterol and reduce the risk of heart disease.
Medications
Medications that are used in the treatment of hypercholesterolaemia include:
HMG-CoA reductase inhibitors (statins)
Bile acid sequestering resins
Hormone replacement therapy
Nicotinic acid
Fibrates such as gemfibrozil
The National Heart Foundation of Australia target levels for lipid modifying therapy are:
Total cholesterol < 4.0 mmol/L
LDL-C < 2.5 mmol/L
HDL-C > 1.0 mmol/L
Triglycerides < 2.0 mmol/L
Alternative treatments other than medicinal are:
Red yeast rice
Fenugreek
Guggulipid
More information
| | |
| --- | --- |
| | For more information on cholesterol, including the health effects of high cholesterol and ways to lower cholesterol levels, as well as some useful tools, see Cholesterol. |
| | |
| --- | --- |
| | For more information on nutrition, including information on types and composition of food, nutrition and people, conditions related to nutrition, and diets and recipes, as well as some useful videos and tools, see Nutrition. |
Hypercholesterolaemia References
Citkowitz E. Hypercholesterolemia, familial [online]. Omaha, NE: WebMD eMedicine; 2006 [cited 23 August 2006]. Available from: URL link
Kumar P, Clark M (eds). Clinical Medicine (5th edition). Edinburgh: WB Saunders Company; 2002. Book
Grundy SM, Bilheimer D, Chait A, et al. Summary of the second report of the National Cholesterol Education Program (NCEP) Expert Panel on Detection, Evaluation, and Treatment of High Blood Cholesterol in Adults (Adult Treatment Panel II). JAMA. 1993;269(23):3015-23. Abstract
Ornish D, Brown SE, Scherwitz LW, et al. Can lifestyle changes reverse coronary heart disease? The Lifestyle Heart Trial. Lancet. 1990;336(8708):129-33. Abstract
Guidelines for the diagnosis and management of familial hypercholesterolaemia [online]. Sydney, NSW: Cardiac Society of Australia and New Zealand; 2005 [cited 23 August 2006]. Available from: URL link
Woodhouse S. A Common but Nearly Forgotten Life Threatening Disorder. Brisbane, QLD: University of Queensland; 2005.
Drugs/Products Used in the Treatment of This Disease:
All content and media on the HealthEngine Blog is created and published online for informational purposes only. It is not intended to be a substitute for professional medical advice and should not be relied on as health or personal advice. Always seek the guidance of your doctor or other qualified health professional with any questions you may have regarding your health or a medical condition. Never disregard the advice of a medical professional, or delay in seeking it because of something you have read on this Website. If you think you may have a medical emergency, call your doctor, go to the nearest hospital emergency department, or call the emergency services immediately.