Introduction to psychostimulants for ADHD
It is essential that an accurate diagnosis of attention deficit hyperactivity disorder (ADHD) be made and confirmed before medication is commenced.
Psychostimulants are medications that increase the amount of chemical messengers to stimulate certain areas of the brain. There is good evidence that psychostimulants can reduce symptoms of inattention and hyperactivity/impulsivity by enhancing certain chemical messengers in the brain. There is little evidence, however, that medications alone have a long term benefit on an individual's academic performance. It is important that additional family education about the disorder, well-planned behavioural interventions, and support are used.
There are two types of psychostimulants:

Immediate release psychostimulants
The first medication that may be used for treating an individual with ADHD is either dexamphetamine or methylphenidate. The effect of these medications is to increase the capacity to attend, decrease impulsiveness, and reduce activity. General behaviour, and interactions with peers and parents, may also improve. If an individual does not respond to one of these drugs, the other may be tried.
Due to the anorexic properties of these medications, doses should be taken after breakfast and lunch. The medication will be started at a low dose, then gradually increased until a satisfactory response is achieved.
Adverse effects include headaches or abdominal discomfort. However, many patients become tolerant to these effects without the need to reduce dosages. Following your doctor's instructions is important for achieving the best therapy, and discontinuation of a psychostimulant should be done slowly to avoid withdrawal side effects.

Short-acting preparations include:
Dexamphetamine
Methylphenidate (e.g. Attenta, Ritalin)

Modified release psychostimulants (long-acting)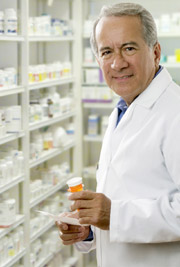 Modified release preparations of methylphenidate with a longer duration of action are also available. They provide both immediate and delayed release of methylphenidate, and have an effect similar to taking a breakfast and lunchtime dose of immediate release methylphenidate. Long-acting modified release preparations are taken once daily.
The doctor may start therapy with a short acting immediate release form of methylphenidate. Once stabilised on an optimum dose, a switch may be made to a single morning dose of a long acting modified release methylphenidate preparation.
Modified release preparations include:
Concerta (10–12 hour duration)
Ritalin LA (6–8 hours duration)

Summary diagram
The most effective treatment for ADHD involves both psychosocial and pharmacological therapies. The following chart may help simplify the pharmacological treatment strategy for ADHD: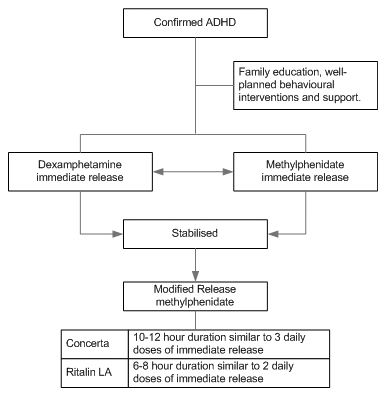 For further information, talk to your doctor.
More information
| | |
| --- | --- |
| | For more information on the symptoms of ADHD and its medications, and some useful tools and animations, see Childhood ADHD. |
| | |
| --- | --- |
| | For more information on the symptoms of ADHD and its medications, and some useful tools and animations, see Adult ADHD. |
References
All content and media on the HealthEngine Blog is created and published online for informational purposes only. It is not intended to be a substitute for professional medical advice and should not be relied on as health or personal advice. Always seek the guidance of your doctor or other qualified health professional with any questions you may have regarding your health or a medical condition. Never disregard the advice of a medical professional, or delay in seeking it because of something you have read on this Website. If you think you may have a medical emergency, call your doctor, go to the nearest hospital emergency department, or call the emergency services immediately.