Introduction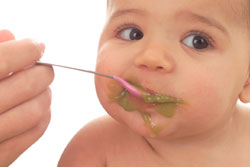 Nutrition in the first year of life is primarily obtained from breastfeeding and/or infant formula. At around 6 months of age, there is a gradual introduction of baby foods starting with fortified cereals.
During the first year of life, the baby teeth begin to come through into the mouth and the shape and size of the jaws change quite quickly. Some of the adult teeth at this stage are already developing in the bone. Adequate nutrition is of great importance at this time, as even small occurrences of poor malnutrition during the first year of life may result in enamel hypoplasia (underdevelopment of tooth enamel) and consequently, an increased risk of tooth decay in the area.

Breastfeeding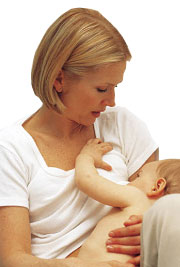 Breastfeeding is encouraged because of its general health benefits and also minimal chance of tooth decay from this form of nutrition.  There are also some researchers who believe that incorporating extra vitamins in the infant's diet will lead to a smaller chance of problems with enamel formation (your dentist will be able to advise on if this is appropriate for your baby).
Breast milk is relatively low in fluoride, and this is not of great importance in this age group. The main consideration is not to give an excessive quantity of fluoride e.g. large amounts of fluoridated infant formula.
In the US, all children who are above the age of 6 months are given fluoride supplements to protect their teeth and in the past Australian guidelines used to recommend this too, especially for non-fluoridated areas. However, this is no longer recommended in the form of drops or tablets because of the increased risk of dental fluorosis.

The transition to food
Children make the transition from the exclusive milk diet of infancy to a variety of foods in the first year; therefore, this is an important time to exert a positive influence over eating habits.
At around 6 months of age, when infants start the transition from breast/bottle to cup, it is important that they not be allowed to use a sippy cup for long periods of time because this behavior will promote decay, especially when a sugary drink is placed in the sippy cup.
Children can be introduced to sugary food and drinks around the time they first start teething. While children are inclined to like sweet and salty foods and avoid sour or bitter foods, repeated parental experience will shape their preferences for the majority of foods. Thus, the parent or caretaker of the child plays an important role in developing good eating habits for infants.
It is important to commence cleaning the infant's gums at this early stage; even before the teeth have erupted.

More information on dental hygiene from birth to 6 months of age

More information on dental hygiene from 6 months of age

What not to do!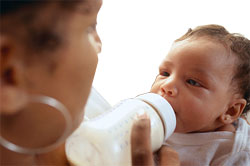 Some practices are associated with rampant decay in children and these include:
prolonged use of baby bottles, during the day or night, containing highly fermentable sugars (e.g. fruit juice, soda and other sweetened drinks); and
pacifiers dipped in sweet agents such as sugar, honey, or syrups, or other high-frequency sugar exposures.

Summary
To promote good nutrition and decrease the caries risk in infants:
Discourage a child from carrying and continuously drinking from a bottle or sippy cup, especially if sugary drinks are being consumed, and secondarily to wean the infant out of a habit that may eventually cause orthodontic problems;
Introduce the cup to begin weaning from the bottle;
Reduce use of beverages, other than breast milk, infant formula, or water; and
Follow infant feeding nutrition guidelines to ensure optimal nutrition.
Kindly written by Dr Akhil Chandra BDSc. (Hons UWA)
Dentist, Whitfords Dental Centre and Editorial Advisory Board Member of the Virtual Dental Centre
More information
| | |
| --- | --- |
| | For more information on dental health and hygiene in children aged 0 to 5 years, see Dental Health in Kids. |
References
Fitzsimons D, Dwyer JT, Palmer C, Boyd LD. Nutrition and oral health guidelines for pregnant women, infants, and children. J Am Diet Assoc. 1998 Feb;98(2):182-6, 9.
Tinanoff N. Association of diet with dental caries in preschool children. Dent Clin North Am. 2005 Oct;49(4):725-37.
Tinanoff N, Palmer CA. Dietary determinants of dental caries and dietary recommendations for preschool children. J Public Health Dent. 2000 Summer;60(3):197-206; discussion 7-9.
Proffit W. Contemporary Orthodontics. 3rd ed. St Louis: Mosby, Inc; 2000.
Alvarez JO. Nutrition, tooth development, and dental caries. Am J Clin Nutr 1995;61: 410S-6S.
May RL, Goodman AH, Meindl RS. Response of bone and enamel formation to nutritional supplementation and morbidity among malnourished Guatemalan children. Am J Phys Anthropol 1993;92:37-51.
Burt BA. The changing patterns of systemic fluoride intake. J Dent Res 1992;71:1228-37.
Levy SM, Kiritsy MC,Warren JJ. Sources of fluoride intake in children. Public Health Dent 1995;55:39-52.
Douglass JM, Douglass AB, Silk HJ. A practical guide to infant oral health. Am Fam Physician. 2004 Dec 1;70(11):2113-20.
Sanchez OM, Childers NK. Anticipatory guidance in infant oral health: rationale and recommendations. Am Fam Physician. 2000 Jan 1;61(1):115-20, 23-4.
Therapeutic guidelines: Oral and Dental. 1st ed. North Melbourne: Therapeutic Guidelines Limited; 2007.